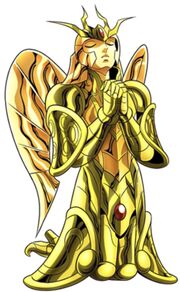 Virgo Cloth Stone In Saint Seiya Omega has more changes from the other spin off, shoulder protectors do not cover as much as the classic version, elbows and knees are his most notable changes, as these are much more and has a red gem in its waist, and seems to lose the classic detail of the wings of Virgo.
Ad blocker interference detected!
Wikia is a free-to-use site that makes money from advertising. We have a modified experience for viewers using ad blockers

Wikia is not accessible if you've made further modifications. Remove the custom ad blocker rule(s) and the page will load as expected.