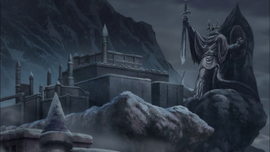 Valhalla Palace is the headquarters and residence of representatives of Odin, God Warriors and Nordic army.
First War, Hilda vs Athena
Soul of Gold
Galley
Trivia
During the conflict between Hilda and Athena, the Valhalla Palace is severely damaged, even, the Odin's statue is destroyed, however, Soul of Gold, the palace and statue are intact.
Valhalla Palace is where Hilda (using the Odin Robe) prays every day to prevent the melting of the ice at the poles.