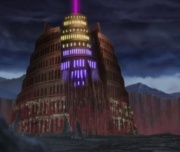 The
Babel Tower
(
バベルの塔
-
no tō baberu )
was founded on the ruins of the
Sanctuary
by
Mars
, helped by the Cosmos Light of
Aria
.
Babel is driven by five Ruins base by Aria (when she was held captive), and the Cosmos of all those who had the misfortune to rebel against the new regime in Mars (mainly students and teachers of the Palestra, among them Geki , Komachi and Arne). These "rebels" were held in stasis in a huge light pillar in the center of the tower, and pumped gradually of their Cosmos. 5 hearts destroy elementary sends the Cosmos to the Earth is round, according to Aria, a prerequisite before destroying it.
This tower is based upon the Biblical Tower of Babel, which was a project by various people to build a tower to reach God. When God realized what was happening, before the tower was completed He caused the languages of the people working on the tower to become scrabbled, resulting in a variety of different languages. Due to the new communication problem, the workers never finished the tower. This tower is also occasional featured on Tarot Cards, and represents divine revelation and destruction.
Appearances
Edit
Ad blocker interference detected!
Wikia is a free-to-use site that makes money from advertising. We have a modified experience for viewers using ad blockers

Wikia is not accessible if you've made further modifications. Remove the custom ad blocker rule(s) and the page will load as expected.