Tokumaru Tatsumi (辰巳 徳丸 Tatsumi Tokumaru?) Saori's long time butler, still her faithful servant in the universe of Omega. He still keeps his shinai to protect Saori as he did in the past.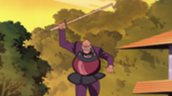 Tatsumi help protect
Kido Saori (Omega)
, along with
Ophiuchus Shaina (Omega)
in "Orphan Island" south of the sanctuary, when Mars appeared on the island, Tatsumi and Shaina decided to take on Mars .
Later with the disappearance of
Kido Saori (Omega)
Tatsumi carried
Pegasus Kōga
to a nearby island to search Saori.
Ad blocker interference detected!
Wikia is a free-to-use site that makes money from advertising. We have a modified experience for viewers using ad blockers

Wikia is not accessible if you've made further modifications. Remove the custom ad blocker rule(s) and the page will load as expected.