Sylph Edward

Naming
Japanese
シルフのエトヴァルト
Romanization
Shirufu no Etovaruto
Greek
Alias(es)
Sylph Specter
General Information
Classification
Terrestrial Specter of Hades
Deity
Hades
Cloth
Memorial
Black Cloth
God Cloth
Glory
Surplice
Sylph Surplice
Scale
Kamui
God Robe
Galaxy
Soma
Ars Magna
Chronotector
Sacred Sword
Tattoo
Orb
Leaf
Nahual
Constellation
Evil Star
Terrestrial Flight Star[1]
Star
Cosmoenergy
Realm
Abilities shown
Named techniques
North Winds
Items used
Biographical Information
Age
Race
Human
Gender
Male
Place of birth
Place of training
Place of death
Blood type
Zodiac sign
Birthday
Height
Weight
Master
Apprentice
Family
Media
Debut
TLC: Chapter 31, Episode 8
Appearances
The Lost Canvas: Manga
The Lost Canvas: Animation
Japanese voice
Yasuyuki Kase
English voice
[Template Source]
Sylph Edward (地飛星 シルフのエトヴァルト, Chihisei Shirufu no Etovaruto) was a Specter in command of the group sent by Hades to Jamir in order to recover the Mokurenji fruits, which were stolen from the underworld by Pegasus Tenma, Unicorn Yato and Crane Yuzuriha.
Upon arrival, while passing through the Graveyard of Saint Cloths, the group was attacked by Virgo Asmita, who quickly defeated them and threw them into the abyss. However, using Hades' powers they resurrected and returned to battle, facing Tenma, Yato and Yuzuriha, watched (but not helped) by Cat Sith Chesire, while Asmita retreated to Jamir Temple to meditate and expand his cosmos. During the battle they are killed over and over again, but each time they resurrected and went back to combat.
Finally Asmita, using his cosmo, purified the fruits of Mokugenji, assembled in a Rosary, which sealed the souls of the Specters, thus preventing them from resurrecting. Edward and Cheshire sensed the great cosmos of a Gold Saint inside the Jamir Temple. Edward jumped to attack, but it was too late. Using his technique "Tenbu Horin", Asmita finally killed Edward and his group of Specters.
Cheshire survived the attack, and was astonished to see Edward's dead body, something that he deemed impossible.
Skills and abilities
Edit
Intuition: As an awakened specter, Edward can manipulate the sixth sense.
Immortality: As an awakened specter, Edward can not be killed by normal means, and will come back to life quickly after being defeated unless the loss of Hades' favor or sealing of the soul occurs.
Superhuman strength: Like all cosmo users, Edward's physical strength surpasses that of average humans.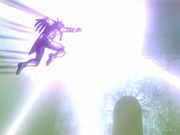 Energy projection: Edward can generate and project energy-based attacks.[2]
Air manipulation: With his cosmoenergy, Edward can control air currents, to the point in which a tornado could be formed.[3]
Edward is an English given name derived from the Anglo-Saxon form Ēadweard, composed of the elements ead "wealth, fortune; prosperous" and weard "guardian, protector".
In the anime adaptation of the series he uses an energy attack to hit Jamir's protective barrier.
References
Edit
↑ 地飛星 Chihisei. 飛 is Japanese and Chinese for "to fly", "winged" or "go quickly". Its modern form is 升, which means "arise", "go up" and "advance".
↑

Unnamed technique, which only exists in the animation.

↑ The technique North Winds in extra content describes this ability, which was never actually shown.
Ad blocker interference detected!
Wikia is a free-to-use site that makes money from advertising. We have a modified experience for viewers using ad blockers

Wikia is not accessible if you've made further modifications. Remove the custom ad blocker rule(s) and the page will load as expected.