Southern Cross Georg ((南十字座(サザンクロス)のゲオルク Sazan Kurosu no Georuku)Silver is the Saint of the constellation of the Southern Cross, with teammate Juan Shield of arms are regarded as the two Silver Saints more loyal to Athena, by the usurper Kyoko.
History
Galaxian Wars
Georg performs with John, when called by Kyoko (Saga), who informs them about the Galaxian Wars was to be performed, where a group of Bronze Saints fight for personal reasons, even when he mentions that the group must be punished, He informs them that the reason why they were called that was not his mission was to find those responsible for the conspiracy hidden in the tournament; He explains that from the beginning in order to make the tournament these young people were sent to become apprentices Saints by a man called Mitsumasa Kido, although this man had died granddaughter Saori Kido follows him to complete his will, and not it was just that, but that girl is conspiring with Saints who disappeared Sanctuary long ago, this suspicious attitude makes believe he plans to attack the shrine, to finish listening Georg shows doubts because even when the Foundation Grand is a huge conglomerate does not believe that she is capable such a thing, but then Katya presents mentioning that girl to call Athena, and that is an insult to the divine Athena
To the surprise of those present by the presence of the Saintia,, the Kyoko explains that Saintias are the personal guard and chaperones Athena, Katya explains that the plan aims to make that girl fall from inside the Shrine, also suspected that there be a hidden in the shadows with evil intentions behind it all, at the end of speaking these words, Kyoko tells them that even though the threat of Eris disappeared there are always evil beings that threaten the Earth, so commands to them Silver Saints who are the most loyal, accompanying Katya to capture Saori Kido and put a stop to be evil that lurks in the shadows
As a Pegasus
Georg, next to John and Katya, traveling to Japan, Tokyo, where he is making the Galaxian Wars, before beginning his mission decided to spend a bite at a restaurant of ramen in the place they hear the outcome of the battle Seiya and Shiryu against on television, John says they should leave while mocks Saints participants to be part of such a sensationalist tournament, what Georg answers that feel sorry for them if their preparation was only to act as pawns in that match, then Juan with a smile mentioned that is very compassionate and that's because I train one of these Bronze Saint, although he denies because it has nothing to do, and it's like Kyoko says no an evil shadow that threatens the sanctuary and its duty is to eliminate it, to what John says no torment yourself because it does not want to stand in this mission
On leaving the restaurant Juan apologizes to Katia to keep you waiting, and offers you eat something, which says no need to do so, while they were full eating preparations, then John tells the audience that if do not want to visit a place after all have more time to spare, Katya turns around and gives a long explanation of why should avoid any action that gives them a chance to attack their enemies, to which the Saint responds that a "no" would have sufficed, while Katya leaves the place, John and George are left behind wondering why act like if all Saintias behave that way, and also wonder why they were sent by her, if it is only to accompany or perhaps spy as can repent because the traitors are his former colleagues in the end decide to follow Katya while John mentions that as the most loyal Saints is their duty to perform this noble task.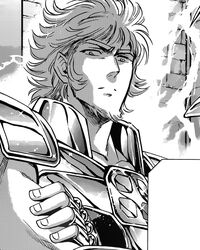 Fight in the Coliseum
To end the fighting in this day, Saori is at the Coliseum Graad with Mii, who tells him that he has confirmed that all participants have left the place safely, while Shōko with Rumi are found around the Colosseum discussing who witnessed the battle that day, but now are interrupted by lightning hitting Colosseum
At the top of the Coliseum Georg and Juan are presented in front of Mii and which protected Xiaoling Saori Lightning, both recognized as Saintias the Silver Saints, the two Saints to see that their opponents are two girls refuse to attack them, and John believes that this is a tedious task, and Georg considered pathetic deceive two girls like that, but at that moment Katya is presented by responding to their partners if it bothers them that their enemies are little girls, she takes care of everything to the surprise of his former companions who recognize Saintias
Georg with Juan seen from the top of the Coliseum fighting Katya with her former Mii and Xiaoling, when Katya has defeated her companions and is about to capture Saori appears Shōko to help after a short battle the girl achieved beat Katya in a fight, when about to connect a Juan appears to help stopping the movement Shōko with one hand, for discontent Katya attack but Juan replied that it had already been boring to watch this fight where nothing happens at that time he warned his opponents that eliminated in attacking them instantly with a powerful electric field of cosmos, after the explosion realize that Saori and Saintias who were in that place have disappeared (thanks to Mayura's has teleported away from the site), two Silver Saints and Saintia realize the presence of Mayura has come to the Coliseum to face, two Silver Saints recognize it as one of the missing Saints Sanctuary, Mayura lights his cosmos and rise his wheelchair while giving them a warning.
Anti Mayura
Seeing Mayura is ready to fight, Georg judged as a traitor, but she argues that it is no longer struggling treacherous defend Athena and the onlytraitor is Saintia located beside Katya attack but Juan intercepts the attack with his shield defending his mate while the nagging by distracted in combat, the shield of John begins to be overcome but before he can pierce the shield Georg Mayura attacks to stop their attack against their peers After his move he asks because it considers Saori as the true Athena, to which she replies that are immature for not seeing the truth and not have to defend that girl, hearing this Katya intends to keep fighting for it has sworn allegiance to both Silver Saints Sanctuary but the stop, and they will not allow him to die at that moment Juan and Georg Mayura prepare to attack, John raises a gravitational barrier with his Astral Gravitation to protect everyone, while attacking with Georg geistig Blitz, but Mayura defends his Higi Kenyoku Tenbusho defeating the two Silver Saints who see their overtaken by his attack techniques
Having attacked the two Silver Saints, Mayura continues its attack on Katya, but before he can end the Saintia realizes that someone very powerful is going where Saori is at that moment Juan and Georg rise to defend his companion, but Mayura tells them that he has no time to lose with them and let them go, even if Georg tries to stop
The two Silver Saints, plan to continue to combat, preparing to attack again, but are stopped by Katya asking Mayura not worry about Athena because it is good, then she apologizes to John and Georg all the inconvenience caused to them, asking them to fight for the real Athena Saori (to the surprise of John and George). Katya prepares his attack, reiterating that all this was done by Athena but their actions are unforgivable, Mayura she apologizes for having raised his hand and asks her to protect Athena, when she finished speaking attacks itself with his own attack (to the surprise of his colleagues), after what happened Mayura takes Katya's body, realizing that had been contaminated by the poison of desire in one of the Evil Seeds, before leaving with Katya, Mayura asks the Silver Saints do not worry because it does not hurt, and create the last words he said to them, since they need not die in vain
After leaving Mayura Place, Georg and Juan begins to wonder what they had heard, John wonders if this is really such Saori Athena, to which Georg replied that if so what the hell was going on in the sanctuary to hear ?, Juan subject head and begins to curse the bad luck they had in that day, that moment asks Georg they should do, what the answer would have to think after eating