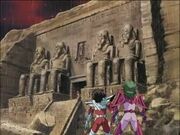 The
Second Prison
 (Daini Prison.第 二 プリズン (Daini Purizun)) of the Underworld is a rocky area and the resting place of souls guilty of extreme gluttony (using food and resources to the point of immense waste and the suffering of others). Souls kept here are constantly beaten by icy rain and hail, and fall prey to
Cerberus
, the monstrous three-headed dog of
Hades
and the guard dog of Hell, who chews up the souls he can catch; 
Cerberus serves as the ultimate symbol of gluttony. In the center of the prison is an enormous Egyptian temple, which mimics a very famous Egyptian monument: the temple of Ramses II at Abu Simbel. Appropriately, the Specter guarding this prison is Sphinx Pharaoh, Hades's personal musician.
Appearances
Edit
Ad blocker interference detected!
Wikia is a free-to-use site that makes money from advertising. We have a modified experience for viewers using ad blockers

Wikia is not accessible if you've made further modifications. Remove the custom ad blocker rule(s) and the page will load as expected.