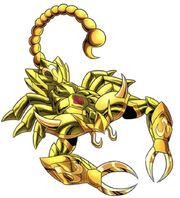 In Saint Seiya Omega Scorpio Cloth Stone has put a mask and the armor is surprisingly few along with Aries which is fairly true to the classic, only changes shape to fit the Omega style ornaments and disappear, because next to the Leo, always had many classical motifs into parts. The most striking change to the naked eye is the torso, that while maintaining a minimal look that respects the old leaves room for breasts. It is also true that the style and demeanor of this armor can more readily conform to the body of a girl's Gemini cloth.
Ad blocker interference detected!
Wikia is a free-to-use site that makes money from advertising. We have a modified experience for viewers using ad blockers

Wikia is not accessible if you've made further modifications. Remove the custom ad blocker rule(s) and the page will load as expected.