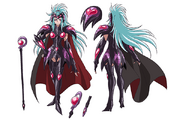 The Cronotector not visually has a structure that represents the range but has several " hearts " in certain parts of the Cronotector , it has a similar almost identical to that of the Gemini Cloth structure, tiara unit protection seems to possess a kind of eye in its center a heart lies , forearm protectors are simple like the arm, the latter a "heart" and its completion is presented is presented in three subdivided structures that provide the union with the protection of the forearms, the chest has a complete protection similar to that present in said aforementioned Cloth , waist again presents a "heart" and three guards with similar endings to which found in his arms and thigh pads which have a simple design for the feet separated by a knee returning to make a heart-shaped structure , the rest of the foot protection is a simple design , the pads have a also design with a heart at its center and the terminations that are in the arms at the elbows.
Ad blocker interference detected!
Wikia is a free-to-use site that makes money from advertising. We have a modified experience for viewers using ad blockers

Wikia is not accessible if you've made further modifications. Remove the custom ad blocker rule(s) and the page will load as expected.