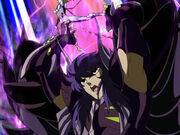 Garuda Flap is the attack used by Specter Garuda Aiacos. It is a two-part attack: Aiacos first expels a gust of wind through his arms, sending the opponent soaring miles into the air at top speed. The spectre then crosses an "X" on the ground with his feet and begins a 3 second countdown. At the end of it, the opponent is knocked back down to the ground, usually crashing onto the "X" as marked. Aiacos used this technique when fighting Phoenix Ikki.
Ad blocker interference detected!
Wikia is a free-to-use site that makes money from advertising. We have a modified experience for viewers using ad blockers

Wikia is not accessible if you've made further modifications. Remove the custom ad blocker rule(s) and the page will load as expected.