Saint Seiya Rebirth is the first webseries made in Italy, that take Saint Seiya in a live action version. It has been subtitled in 4 languages and get over 2.500.000 of views, directed by Carlo Trevisan, an italian indepedent director, actor and filmaker.[1] [2]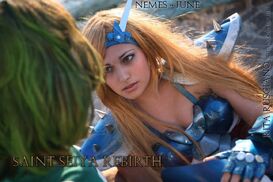 Is a fan movie no profit and unofficial, nevertheless the reception of the fans has been significantly positive, so the series was presented in many important events about comics, movies and Saint Seiya like the Lucca Comics.[3] [4] [5][6] All the episodes were cutted and edited to make a full lenght movie, that was presents in the Saint Seiya Dubsters/Voice actors reunions, at Cartoon Club - Rimini Comics 2013 in the event "Sotto le stelle di 
Seiya" (under Seiya's stars).
All the live action was dubbed by the original voices of the series, like Ivo De Palma, Tony Fuochi, Danja Cericola and many others.[7][8]
The plot is about a sequel from the Hades Chapter, wich have a sequel in the comic (Next Dimension), but not in the anime. Was choosen to follow the continuity of Lost Canvas.
Curiosity
Edit
In Saint Seiya Omega there are many quotes from this series, even Rebirth isn't official. Like the shirt of Shun, the return of the Steel Saints, Kiki become a Gold Saint, the son of Shiryu, etc...
In 2013 the series overcome 2.000.000 views on the youtube channel.
The first episode get 100.000 views in one month.
Every episode was shooted in Italy.
In additions to the episodes, there are two specials, a live action version of the Chikiyuugi theme, and a live action version of the famous intro theme Pegasus Fantasy.
2014 - Rome Web Awards

Won Best Costume Design
Nomination Best War&Action Series
Nomination Best Costume Design
Nomination Best Visual Effects
Nomination Best Villain to Damiano Verrocchi plays Baal
External Links
Edit
References
Edit
Ad blocker interference detected!
Wikia is a free-to-use site that makes money from advertising. We have a modified experience for viewers using ad blockers

Wikia is not accessible if you've made further modifications. Remove the custom ad blocker rule(s) and the page will load as expected.