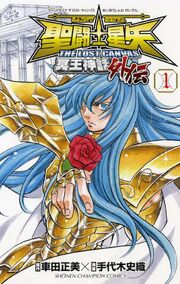 Masami Kurumada and Shiori Teshirogi launched a new spinoff series called
Saint Seiya: The Lost Canvas Gaiden
. The Gaiden spinoff continued to tell the
Golden Legend of the twelve Gold Saints
. The gaiden of Lost Cavans as the manga Lost Cavans same, are not canonical stories, so unnecessary to the story of the original Saint Seiya.
List of Gaiden
Edit
According to the information from the original 1986 manga, The Lost Canvas is set around 1745.
The order the remaining Gold Saints are arranged in is currently unknown:
↑

Venice was not part of Italy at the time of the story. It never was part of Italy until 1866, about 150 years later.

↑ Taurus Rasgado's flashback story is set 14 years before Teneo's. With this in mind, Aldebaran's story is set in 1738.
Ad blocker interference detected!
Wikia is a free-to-use site that makes money from advertising. We have a modified experience for viewers using ad blockers

Wikia is not accessible if you've made further modifications. Remove the custom ad blocker rule(s) and the page will load as expected.