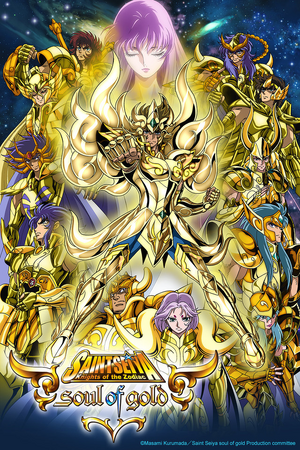 Saint Seiya: Soul of Gold (聖闘士星矢 黄金魂 Seinto Seiya - Sōru obu Gōrudo) or Knights of the Zodiac: Soul of Gold is an Original net animation (called web anime in Japan). It's a spin-off from the animated adaptation of Saint Seiya by Masami Kurumada.
This new series began streaming on April 11, 2015. Bandai Channel streams the series in Japan, while Daisuki and Crunchyroll streams it for the rest of the world. The latter offers subtitles in different languages, including English and Spanish. Episodes are released in single format biweekly on Saturdays
The series was announced on October 29th at the 2014 Tamashii Nation Figure Expo in Japan, revealing it will focus on the deceased Gold Saints in the aftermath of Athena's battle against Hades in the 20th century. It was also revealed that the series approach will be an original anime story, as it won't be an adaptation of any of the arcs contained in Kurumada's manga or other related spin-offs in the franchise.
An official event was held on October 31, 2014, at the Tamashii Nation 2014 Expo in Japan, to further introduce the series to the specialized media and to the public. Soul of Gold is part of the projects that commemorate the fortieth anniversary of Kurumada as a manga artist.
External links
Edit
All links provided below for streaming are legal and do not infringe on the copyright of the series.
Ad blocker interference detected!
Wikia is a free-to-use site that makes money from advertising. We have a modified experience for viewers using ad blockers

Wikia is not accessible if you've made further modifications. Remove the custom ad blocker rule(s) and the page will load as expected.