Romulus

Naming
Japanese
ロムルス
Romanization
Romurusu
Greek
Alias(es)
General Information
Classification
Martian
Deity
Mars
Cloth
Memorial
Black Cloth
God Cloth
Glory
Surplice
Scale
Kamui
God Robe
Galaxy
Romulus Galaxy
Soma
Ars Magna
Chronotector
Sacred Sword
Tattoo
Orb
Leaf
Nahual
Constellation
Evil Star
Star
Cosmoenergy
Realm
Abilities shown
Named techniques
Cremito Rupis
Items used
Biographical Information
Age
Race
Gender
Male
Place of birth
Place of training
Place of death
Blood type
Zodiac sign
Birthday
Height
Weight
Master
Apprentice
Family
Mars (father)
Vulcanus (uncle)
Diana (aunt)
Bacchus(uncle)
Hornet Sonia(middle-sister)
Orion Eden(Half-brother)
Media
Debut
Ω: Episode 43
Appearances
Omega: Animation
Japanese voice
Ryōhei Arai
English voice
[Template Source]
Romulus is one of the four Heavenly Kings of Mars. Romulus can use the element of Earth.
First Holy War
Edit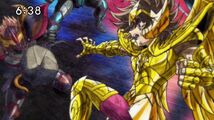 Alongside his brothers in arms, he fought the Legendary Saints (Seiya and companions) but was stopped by the arrival of Athena . The latter inflicted such injuries that he was forced to put to sleep awaiting the return of his master.
New Battle 12 Zodiac House
Edit
During the last hours of the new Battle of twelve houses,Pisces Amor, wishing force Kōga to release his cosmos Darkness , relies on four heavenly kings and ordered them to fight the Bronze Saints in the name of Mars. Sōma , Ryuho and Haruto are outnumbered by their opponents until Kōga balance the forces in killing Bacchus. Re-motivated, his friends confront their most powerful secrets to those of the three remaining kings who perish forever.
Technique
Edit
Cremito Rupis: Romulus attracts rocks to his fingers, and with its heat melts them creating a big ball of magna that is thrown at the enemy with budget.
Abilities
Edit
Belonging to the elite of Mars and fought against the legendary Ikki and have put in serious difficulties Vulcanus makes one of the most powerful warriors under the command of Mars , according to Amor, Vulcanus and his comrades in arms are more powerful than the Gold Saints .
Romulus Manages the Earth element which used to modify the battlefield as a defense and as Attack.
As demonstrated throughout Romulus to use dark element and was viewed by manipulating the Fire element.
Romulus shares his name with one of the mythic twins who supposedly founded Rome, Romulus and Remus, who were the sons of the god Mars and the princess Rhea Silvia. Rhea Silvia's father, the king of Alba Longa, was deposed and her uncle, to prevent her from having children to challenge him for the throne, forced Rhea Silvia to become a Vestal Virgin. However, Rhea Silvia was seduced by Mars and bore twins sons: Romulus and Remus. When this was discovered, she had to abandoned the infants, but they were rescued and raised by a she-wolf. When they grew up, the twins returned and killed their uncle. Later on, the brothers founded a new city but, in an argument of what to name the city, Romulus killed Remus. Romulus then named the city Roma (Rome) after himself and made himself its first king. As such, it makes sense for the character to be an ally of Mars as well as have the title of Heavenly King.
Romulus's attack technique, Cremito Rupis, references Romulus and Remus, who were raised by wolves (Rupis being a Romanization of the word "Lupis", which is the Latin word for wolf). Cremito might reference the mythological mother of Romulus, Rhea Silvia, who was forced to become a virgin priestess of Vesta, the goddess of the hearth and of households. These priestesses were charged with tending the sacred fires of Vesta. Cremito is very similar to the word cremate, which is obviously caused by fire.
Ad blocker interference detected!
Wikia is a free-to-use site that makes money from advertising. We have a modified experience for viewers using ad blockers

Wikia is not accessible if you've made further modifications. Remove the custom ad blocker rule(s) and the page will load as expected.