This page is the Plot of Saint Seiya which shows of the important plots of any Saint Seiya series ever created. Here is a list of which Saint Seiya series has been added:
Original Saint Seiya series.

Saint Seiya: Saintia Shō series.

Saint Seiya: Next Dimension series.
Saint Seiya: Episode G series.
Saint Seiya: The Lost Canvas series.
Saint Seiya: Omega series.
These series has each one a different plot than the other. Also they have a different story line, but one thing is the same, and that is the Pegasus sign the leading characters have.
Plot
Original Saint Seiya series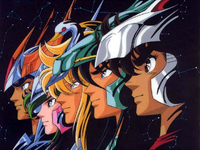 The story goes about a 13-year old boy named
Seiya
. He was forced to go to the
Sanctuary
in order to obtain the
Pegasus Bronze Cloth
, a protective armor worn by the
Greek
goddess
Athena
's 88 warriors known as Saints. Seiya succeed in getting the Pegasus Bronze Cloth and went to Japan to see his
sister
. However, Seiya learns that his sister disappeared on the same that he went to the Sanctuary.
Saori Kido
the granddaughter of
Mitsumasa Kido
is the one who have send all the orphans on a train which she makes a deal with Seiya to participate in a tournament named the
Galaxian Wars
for the battle for the most powerful cloth, the
Sagittarius Gold Cloth
. If Seiya participates and succeeds in winning the tournament, Saori would start a search for Seiya's missing sister. Later, the tournament got interrupted brutally by
Phoenix Ikki
, which
Saga
was the one who was causing the trouble. Seiya meets new friends and rivals to fight with each other against evil.
Saint Seiya: Next Dimension
Saint Seiya: Episode G series
Saint Seiya: The Lost Canvas series
Saint Seiya: Omega series
Important Events
Original Saint Seiya series
Saint Seiya: Next Dimension
Saint Seiya: Episode G series
Saint Seiya: The Lost Canvas series
Saint Seiya: Omega series
References
↑

Saint Seiya Manga; Chapter 1, page 1

↑

Saint Seiya Manga; Chapter 4, page 19

↑

Saint Seiya Manga; Chapter 4, page 21