Leda
Talk

0
925pages on
this wiki
Leda
Age

14

Gender

Male

Date of birth

September 16

Affiliation

Athena

Class

Saint

Rank

Unknown Saint (The 4 unknown Saints)

Training

Andromeda Island

Attacks

Double Nebula Chain

Weight

60 Kg

Blood type

0

Voiced by

Kazumi Tanaka
Leda was in training under Cepheus Daidalos alongside Shun and June. Like them, Leda fights equipped with chain weapons.
Apperance
Edit
Leda is one of the students in the Cepheus Daidalos at Andromeda Island, there share lessons with June, Spica and Shun. Reda is one of the candidates to get the full Andromeda Cloth During the fighting made to see who has the opportunity to make proof of slaughter against Shun faces after this beat to Spica. As for the start of the fight Shun not attacked, Reda says he is afraid and does not want to fight him.
Shun claims they can be injured during combat, Leda says no is ready to become a Saint. Leda says he is willing to do anything to get the armor of Andromeda.Then Shun  lunges Leda but this elusive and asks him if he is afraid.
Leda launches Shun trapping chain around his neck and then begins to punch him in the stomach and ends after several punches thrown him. Leda treads Shun on the ground while he is subject to the chain. Leda tries to end the bout drowning Shun, but this reacts after June gives encouragement and manages to break the chain of Leda.
Shun and Leda  chains are thrown against each other and both holding one of the opponent's arms. Approaching both Leda hit which is being torn down and ends up losing the fight. Shun is interested in the state of Leda after combat, but Leda wants nothing Shun's compassion removing his hand.
A day in the island reaches of Andromeda, Scorpio Milo sent by the Pope of the Shrine to punish them, to believe them as traitors Shun rebelled against the Sanctuary. Milo attacked them all, being Albiore the only one who could put up for a while, but eventually fell.
Leda was one of the few who escaped alive from the island, just before Milo's destroyed. Leda goes along with Spica to Japan with the intention of killing Shun and thus appease the anger of the Sanctuary. When they are hugged Shun and June, and these to see them ask them to do there.
These Shun tells him cut his head and offered to the shrine. Shun tries to talk to them, but they will not listen to Shun and thrown against him. June tells Shun that Leda use cloth and to kick it down. After Spica and Leda attack Shun with Double Chain Nebula  with their chains.
Shun tries to break free but Spica tells not be released. Leda says that resistance is futile. But then recalling his brother, Shun begins to react by increasing their cosmos and manages to break the chains that was trapped between Leda and Spica knocking.
Spica and Leda are launched against Shun, but is this who gets rid of both after knock them down with the chains that had fallen from his hand. Leda received a blow on the right eye causing a wound. This is his last appearance, after he was not seen again.
In the series sh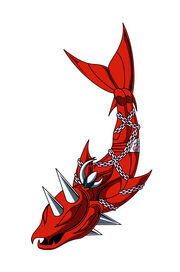 own not to belong constellation Leda cloth.
His cloth of the same basis as the Andromeda Cloth in the anime. The cloth is red. The breastplate covers the body to the waist, and no belt. The legs are long and cover the thighs. The pads are quite large, although its shape resembles the head of a snake, with two horns placed online. The hull is shaped headband with sharp endings. His cloth also has chains on his arms, one ending in a tip simiar to Andromeda Chain in his first animated version, and the other three peaks curved, similar to the ends of the tentacles of Worm Raimi , but much more thin and sharp.
Techniques

Edit
Double Nebula Chain (ダブル·ネビュラチェーン, Chein Nebyura Daburu ? , Double Chain Nebular): Attack performing contunto Leda and Spica to trap and strangle his opponent.
Leda Arabic name may refer to one of the stars of the constellation Aquila.

As in Japan the R and L have the same sense, the name may also come from the history of Greece, King Leda.
It is not known if the character has died after fighting Shun, or only gets knocked out, but he thinks he's still alive because Shun does not usually kill their opponents demaciado unless necessary and also not propyne blows could be considered fatal to a warrior.
Although Gold Jump magazine, devoted to Saint Seiya anime version, dubs it knight without armor or constellation, Sonota Saint, mercenaries working for Sanctuary fans several cosntelaciones assigned as Cassiopeia Bootes, Pez Austral or Macho Hydra.

Some fans consider Silver Saint due to a mistake of dubbing in either version.