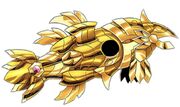 Pisces Cloth Stone design differs greatly from the cloth belonging to the original, although the pads retain their shape even pretty with a somewhat oval termination , chest protector retains a similar design but not both , in the case of carrying on your waist a circular center pink gem that is above the pelvis shield retains the other protective similar design but with an oval end design , being two side shields each other almost one appearing superimposed one, protectors against retain an arm but something different style , arm guards are a "basic" design covering from the knuckles to the elbows in this last part is a kind of "wings " also present in the original design , protective thighs are different from the classic manga but with a "basic" design the protection is longer and get to cover a little below the protectors that are on the sides of the waist, knee protector is identical although the rest of foot protection retains an almost identical design resembling the classic manga , protective boots are different from those of said sleeve to the sides of the knee is the "fins " however in this release are up to the knee while in the classic manga are up to the thighs, neck protector is completely different from being a basic design for the saints in omega , still unknown if this version has a helmet or a Cloth as Love not used either .
Ad blocker interference detected!
Wikia is a free-to-use site that makes money from advertising. We have a modified experience for viewers using ad blockers

Wikia is not accessible if you've made further modifications. Remove the custom ad blocker rule(s) and the page will load as expected.