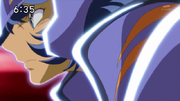 Phoenix Cloth Stone is the first version of the Phoenix Cloth in Omega, transformed by the power of the meteor that fell during the first war against Mars. Unlike the Pegasus and Dragon cloths, the Phoenix cloth did not change its shape after its evolution, only gaining black accents to its design. It is assumed to have gained a storable clothstone form as well. This version of the cloth is only seen in flashbacks to the second battle against Mars.
Ad blocker interference detected!
Wikia is a free-to-use site that makes money from advertising. We have a modified experience for viewers using ad blockers

Wikia is not accessible if you've made further modifications. Remove the custom ad blocker rule(s) and the page will load as expected.