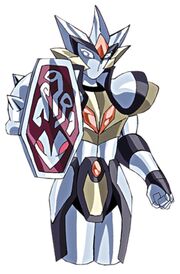 Perseus Cloth Stone is mirfak cloth in omega era
Discription
Edit
Perseus Cloth Stone It is completely different from the anime original.La tiara has five peaks two of them up to being both cheeks yellowish, while the other three are in the top and have a silvery color, "peak " higher have a touch-up in black and are separated by the off peak which at the bottom has a " gem " or detail naranja.Su colored front covers the ribs, is green and has two red " gems " that ojos.Sus pads could simulate white with dark blue edges form a " collar" as all Saint Seiya Omega armor , right shoulder pad is superimposed over another green and the left has an aspect of a larger pad with picos.En waist skirt has a look that covers your entire hip , being black , white and green and the front has sort of gem roja.Sus leg protectors cover these from hip to foot being of blanco.Los colored arm guards cover from the elbow to the fingers and have a separate extension antebrazo.En covering the left arm is the characteristic of Medusa shield this armor .
Ad blocker interference detected!
Wikia is a free-to-use site that makes money from advertising. We have a modified experience for viewers using ad blockers

Wikia is not accessible if you've made further modifications. Remove the custom ad blocker rule(s) and the page will load as expected.