Pegasus Tenma
Talk

0
1,299pages on
this wiki
Pegasus Tenma

Pegasus Tenma

Nihongo
天馬星座(ペガサス)のテンマ
Rōmaji
pegasasu no tenma
Biographical information
Age
15
Occupation
Saints
Physical information
Species
Human
Gender
Male
Height
168cm
Weight
56kg
Affiliation
Partner
Libra Dōko (TLC) (master)
Gemini Deuteros (master)
Loyalty
Athena
Saint Seiya Anime
Episode 1 (TLC)

Voice Actors

Japanese Seiyū

Tetsuya Kakihara
Family

Skills information

Techniques

Pegasus Meteor Fist
Pegasus Comet Fist
Pegasus Comet Fist Big Bang
Pegasus Tenma (Pegasasu no Tenma, 天馬星座のテンマ) is the Pegasus Bronze Saint in Lost Canvas. He's the protagonist of the series, an orphan of Japanese ancestry, who is later revealed to be son of Mephistopheles Yōma. He grew up with Alone and Sasha, in which all three were treated as brothers. He was the current reincarnation of pegasus saint who has strength to slay even gods but tenma is also seiya's past life
Background & Personality
Edit
Tenma is the Pegasus Saint who faced Hades in 1743. Raised in an orphanage in Italy since he was born, his parents are Yoma Mephistopheles and Partita Owl. He never had many friends, except for Alone and Sasha, who are Hades and Athena respectively, which is a cause of great alarm, as Hades destroyed their village.
Meeting and Training with Dohko.
Edit
Tenma was found by Libra Dohko after a tragic event. After taking note of Tenma's potential, Libra Dohko took him to the sanctuary of Greece, where he trained for two years. Tenma has been known to manipulate the Cosmo in a very short time, which helped him win the bronze armor of Pegasus.
During his training, Tenma experienced the reality of fighting Hades and their specter Worm Raimi, as when the old attacked the Shrine. Tenma was severely beaten, but received help from Aries Shion. As a knight, Tenma goes along the entourage of Libra Dohko on the heels of Hades, where he faces the old Mandrake Fyodor and against it once again demonstrates the power of blocking the attack of the spectrum and beating him with one blow.
Asmita and the Rosary of 108 Accounts
Edit
The former Saint of Pegasus also enters in the areas of the Emperor of Darkness, in which he ends up trapped by Mandrake Fyodor (who after defeat), on a mission to pick up the fruits of saboeiro of Hell, with which Virgo Asmita could create the rosary prevent the resurrection specter.
Training with Defteros
Edit
Tenma vows never to rest until Hades falls, even if he is using the body of Tenma's best friend as a host. The Pegasus that time learned the basics of fighting techniques of the riders with Libra Dohko, whom he considers a brother. At the moment, seeking more power to put an end to war and indication Aquarius Dégel, go to Canon Island, near the temple, seeking to become a disciple of a man known as "the devil's island" (his real identity is Gemini Defteros). Pegasus is subjected to three challenges for the "devil": Control the lava, and with it, forming a glowing globe in one of his hands; survive a dip in the magma and leave whole, and, finally, to stop a volcano eruption. Losers all three challenges, Pegasus can awaken your seventh sense and the "devil" recognizes the tenacity of Tenma. According Virgo Asmita, Gemini Defteros felt jealous of Pegasus, for remaining steadfast in the decision to help others.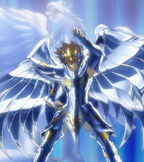 In both Next Dimension and The Lost Canvas, Tenma is the Pegasus Saint. Both versions are friends with Alone, who becomes Hades. The appearance of the Pegasus Bronze Cloth appears close to the Hades Version, though it's not clear why. In The Lost Canvas, Tenma many battles have lead him to be one of the few remaining Saints left, still in pursuit of Alone, despite having to deal with his parents, Owl Partita and Mephistopheles Yōma. Initially, his cloth appeared to be the same it did in the beginning of the Original Series, but changed when he got the blood of Virgo Asmita, and again, when he seemed to turn his Cloth into a God Cloth.
Special Techniques
Edit
Meteor Punch of Pegasus (Pegasus Ryusei Ken): Tenma hit at high speed sending cosmo impacts as meteors through his fist, the technique is capable of sending hundreds attacks per second, while possessing more power but his speed has increased if making destructive power to emulate the Lightning Plasma. After having the God Cloth attack at full power can kill a Lesser God whether as a Guardian of the Temples in one motion.
Pegasus Comet Fist (Pegasus Suisei Ken): Combine all Pegasus Ryusei Ken attacks in a single attack if able to achieve for a maximum power of his attack.
Comet Fist Big Bang of Pegasus (Pegasus Suisei Ken Big Bang): Tenma's most powerful attack, made ​​only when in full power of their cosmos after having the God Cloth, Tenma does the Suisei Ken while being surrounded by the aura of his cosmos taken to the limit and concentrating all his power in this attack.
Tenma's name is written in katakana but be written in Kanji meaning "Heavenly Horse." These kanji is normhttp://saintseiya.wikia.com/wiki/Pegasus_Tenma?action=edit#ally pronounced Tenba, which is one of the names in Japan for Pegasus.
Tenma is similar in appearance, skills and attitude to Seiya, Pegasus Knight of the twentieth century. Throughout the series, Seiya and Tenma are stated to be the same person, reincarnated consistently from the mythological age onward to fight for Athena.