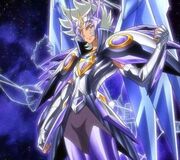 The Cloth turns a deep purple, the cloth is more decorated and elegant, shoulder pads become larger and more resitente in the trunk with the Orion command, while the shoulders are gems added. the belt has a purple gem and protectors are added in the forelegs, as the pads are large and sturdy carrying singular gem. Finally protections legs turn purple. At the back the coat layer is added, however with a shape similar to the wings. Eden can manipulate lightning and have more power.
Ad blocker interference detected!
Wikia is a free-to-use site that makes money from advertising. We have a modified experience for viewers using ad blockers

Wikia is not accessible if you've made further modifications. Remove the custom ad blocker rule(s) and the page will load as expected.