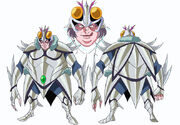 The armor design is completely different to that presented in the manga and anime classic , hull structure refers to the head of the anime and protect arrive until shortly after the eyes , the neck has a complete protection over shoulders this protection is enhanced by a "web " around his neck , the shoulders seem to " fall " to the point "touch" forearms which has a "simple" design as feet, arms and thigh pads , knee pads allow the unification of the feet with thigh pads on the sides of the arms possesses two blades located in each hand which are similar to those found on the shoulders , waist protector will also has the same " material " that marks the separation with his chest , waist protector has two equal size to the sides of the waist, a central shield that protects the pelvis but is smaller than the other guards, a guard room is located at the rear of the saint being the same size as the other guards placed at the waist except the central case , the cloth has two wings located on the back of the saint.
Ad blocker interference detected!
Wikia is a free-to-use site that makes money from advertising. We have a modified experience for viewers using ad blockers

Wikia is not accessible if you've made further modifications. Remove the custom ad blocker rule(s) and the page will load as expected.