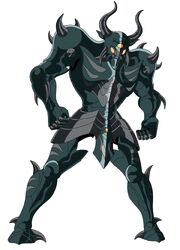 The Minotauros Surplice is the surplice
Gordon
the Divine Prison Star specter and one of the 108 specters of
Hades
.
The Minotauros (or Minotaur) was a bull-headed monster born to Queen Pasiphae of Crete after she had coupled with a bull.
The creature resided in the twisting maze of the labyrinth, where he was offfered a regular sacrifice of youths and maids to satisfy his cannibalistic hunger. He was eventually destroyed by the hero Theseus.
The Minotauros' proper name Asterion, "the starry one," suggests he was associated with the constellation Taurus.
Ad blocker interference detected!
Wikia is a free-to-use site that makes money from advertising. We have a modified experience for viewers using ad blockers

Wikia is not accessible if you've made further modifications. Remove the custom ad blocker rule(s) and the page will load as expected.