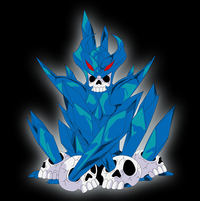 Megrez - Star Delta:
Amethyst is a mineral that symbolizes magic and witchcraft. In Norse mythology dates back to the legend of a young boy like any other, until he found an amethyst in a forest. Enchanted by the brilliance and beauty of the stone, he touches it. Soon after the amethyst begins to consume his body, which merges completely with the rock, turns into a real monster. Rejected by family and village; filled with rage, his body explodes, killing everyone with sharp stakes of amethyst.
Armor: Megrez Delta is the Star of the constellation Ursa Major. The armor is represented by Alberich heads or skulls pierced by sharp stakes amethyst. The Sword of Fire, comes together in the armor.
Ad blocker interference detected!
Wikia is a free-to-use site that makes money from advertising. We have a modified experience for viewers using ad blockers

Wikia is not accessible if you've made further modifications. Remove the custom ad blocker rule(s) and the page will load as expected.