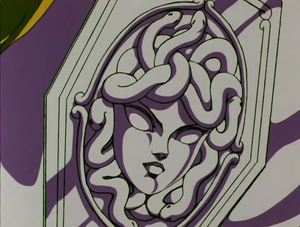 Algol can use the legendary 
Medusa Shield
(based on the Greek mythological monster, Medusa), that can transform anyone who looks directly to it into stone. The shield's power works even if the target closes or covers their eyes, because it passes through blindfold and eyelid, and goes directly into the retinas.
Ad blocker interference detected!
Wikia is a free-to-use site that makes money from advertising. We have a modified experience for viewers using ad blockers

Wikia is not accessible if you've made further modifications. Remove the custom ad blocker rule(s) and the page will load as expected.