These soldiers are the last rank of the army of God Mars are generally weak and some may be strong.
Apperance
Edit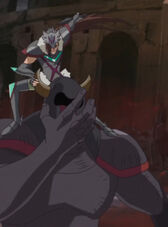 They are simple soldiers, no manifestation of the cosmos and can be easily defeated even to the
Bronze Saints
.
however, some seem to be as strong as Bronze Saints, as evidenced by one of the guards of the Tower of Babel, which blocks easily, with a wave of the hand, a pegasus Ryu sei ken of Koga before facing directly, the size of these soldiers varies as shown when haruto defeats a large soldier soldiers but generally the same size.
The Opening of Saint Seiya Omega The Protagonists ( Pegasus Kōga , Lionet Sōma , Aquila Yuna , Dragon Ryūhō , Wolf Haruto and Orion Eden ) are defeated by using the elements of the Cosmo .
Ad blocker interference detected!
Wikia is a free-to-use site that makes money from advertising. We have a modified experience for viewers using ad blockers

Wikia is not accessible if you've made further modifications. Remove the custom ad blocker rule(s) and the page will load as expected.