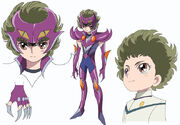 Lynx Cloth Stone represents a feline face, neck protectors are unified at the start of the shoulder pads and chest protector pads are similar to the Mantle of the Crown of Lynx and chest protector thereof, up to the waist thigh pads are separated a little chest protector but are unified with the knee which in turn are unified with protective feet, separating the feet protectors and knee pads is a gem in orange, the like foot guards and kneepads, elbow protectors are unique to arm protectors in the center of the arm protectors are a kind of "teeth" protruding from the protective arms.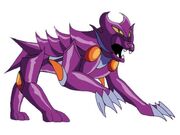 Ad blocker interference detected!
Wikia is a free-to-use site that makes money from advertising. We have a modified experience for viewers using ad blockers

Wikia is not accessible if you've made further modifications. Remove the custom ad blocker rule(s) and the page will load as expected.