Lionet Sōma
Talk

0
1,299pages on
this wiki
Lionet Sōma

Lionet Sōma

Nihongo
仔獅子座(ライオネット)の蒼摩
Rōmaji
Raionetto no Sōma
Biographical information
Age
14
Occupation
Saints
Profesor at Palestra
Physical information
Species
Human
Gender
Male
Affiliation
Partner
Geki (Omega) (master at Palestra)
Georges (master at Palestra)
Unicorn Jabu (Omega) (Taught him the Lionet Bomber)
Loyalty
Athena
Saint Seiya Anime
Episode 2 (In Omega)

Voice Actors

Japanese Seiyū

Katsuyuki Konishi
Family

Skills information

Techniques

Flame Desperado
Lionet Burning Fire
Lionet Bomber
Lionet Flare Storm Bomber
Lionet Explosion
Lionet Sōma
(仔獅子座の蒼摩Raionetto no Sōma ) is the Bronze Saint in the constellation Leo Minor in Saint Seiya Omega. Soma can use the element of fire.
Personality
Edit
Soma is the best friend of Koga and is a very lively pron with good communication skills . He is playful and has a good sense of humor gentle nature and cheerful even in the most difficult situations. Which along with Koga makes him the comedic relief of the group. However when becomes angry, he gets obsessed with defeating his opponents at all costs and cannot be controlled.
Chronology (Mars-Hen)
Edit
Childhood and training

Edit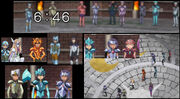 Soma became Saint after his father,
Southern Cross Kazuma
, was killed by
Hornet Sonia
, daughter of Mars , while trying to defend his wife, who was also killed in the attack.
After that event, his father got a bad reputation for being weak.
Journey to Palestra

Edit
After the third battle between Athena and Mars , Soma, the Bronze Saint of  the Lionet constellation is sent by Palestra to investigate the clasing of Cosmo that had taken place on the remote isle. Once arriving there he runs into Pegasus Kōga, who is looking for Saori, and they end up in a brief scuffle. After which Koga decides to follow Soma due to him being a saint. While traveling together Soma explains to his more inexperienced counterpart about the natures of cosmo and how to utilize the elemental properties that they posses, revealing that he can utilize the flame cosmo. Soma is also shocked and in disbelief when Koga informs him that his element is the rare and extremely powerful Light element. While thew two young saints are resting the two get ambushed by a Martian.
The Martian reveals himself to be Mantis Ordykia. The martian utilizes his powerful  control over darkness cosmo to hide and ambush the two during the battle also weakening their cosmo due to the darkness' effects. During the battle Koga is able to activate his light elemnt and dispel the darkness created by the powerful Martian. This alows Soma to use one of his powerful techniqus Flame Desparado and finaly subdue the enemy soldier. After the ordeal the two young bronzes decide  to continue onwards towards the Palestra.
Once ariving at Palestra Koga is put to the test by one of Soma's classmates, a female saint under the name of Aquila Yuna . After Koga is allowed entry by former bronze saint Geki , they give Koga a tour and allow him to travel the grounds before the new semester begins in a few days.
Soma is next seen after Koga tries to leave the Palestra and is excited upon seeing his old friend Dragon Ryuho return to classes after trouble with his health. He is later seen commenting on the battle between Ryuho and Koga and is stunned to see him utilize his Light cosmo to activate the Pegasus Flash Fist. Soma comforted his friend afer his loss and told him, that he just has to train more and is impressed with his new technique.
Soma is next seen in the selection for the upcoming Saint Fight. He chooses Koga as her partner for the trials and he comes into conflict with Volans Argo, who mocks Soma for the weakness of his father. This causes Soma to come into conflict later during the trial with Argo. Due to Argo's interference he and Koga almost miss the deadline to bcome participants for the event, but Geki realizes that the Saint of Volans had tried to cheat and disqualified and barred him from entry. this allowed the two friends to become members of the tournament.
The Saint Fights

Edit
Soma manages to qualify for the tournament after completely the challenge with the help of Kouga, despite having been ambushed by Volans Argo, and almost drowning. Before the first day of battle Soma and the others discuss the prize for winning the saint fight, which is revealed to be a meeting with Athena and an advancement to the next rank of sainthood: Silver. This excites the group and they talk about who could win the tournament mentioning that Ryuho and the mysterious Wolf Saint would be in the forerunnings and the mention the powerful student Orion Eden, who they all agree would present any opponent a tremendous challenge due to his great control over his Thunder element.
Soma is the first of his comrads to fight in the tournament and defeats a powerful Earth elemnt user, he triumphs over the saint but not without recieving some severe injuries first. As his friends worry about his wounds he shrugs them off claiming them to be not too severe and that they should be concerned o ntheir own battles. He ches on his friends in each of their individual fights and also witness the powerful Eden easily best Aurora Borealis Dali, awed by his fellow classmate's sheer destructive power.
His next battle is revealed to be against his good friend Pegasus Koga and the two promise to have a good fight and not to hold back on each other. Once the battle begins the two Bronze saints exchange powerful blows and it is believed that the fight will be equal until Soma reveals his new technique Lionet Burning Fire which releases a powerful stream of fire that keeps Koga at bay. Everyone then realizes that due to Soma's superior knowledge of his cosmo the battle will eventually be his, however Koga comes from behind after gaining a boost in his cosmo after having an inner conversation with the former Pegasus Saint Seiya and thus unlocking the powerful Pegasus RyuSeiKen (Pegasus Meteor Punch), which proves to be more than a match for the Burning Fire and Soma loses the fight. Soma congratulates his friend and is eager to see him fight Eden in the next round.
The following day however the Martians make their move and cover the Palestra in darkness subsequently preventing most of the Bronzes from igniting their cosmo. However Soma, Yuna and Ryuho escape and reunite with with Koga and the thougt to be renegade Wolf Haruto. The Bronze saints don their cloths and escape the Martians deciding to go save the young girl that Koga encontered who is revealed to be at the Sanctuary.
Invested in the Babel Tower

Edit
Upon arriving at the Sanctuary, they find that the twelve houses were destroyed and a mysterious tower was erected in its place, called Babel . Soma, Ryuho Haruto and decide to call the attention of the Martians while Kouga and Yuna go unnoticed. Shortly thereafter, Soma sees Yuna fleeing the Tower and gives the signal to retreat.
Kouga explains being chased by a Gold Saints who will stay and try to stop him while the others move on, but not Soma lets him be alone and also decides to fight, as Ryuho and Haruto while Yuna goes on forward and leads aria to a safe location.
Leo Mycenae arrives in search of Aria and the battle begins. Soma is the first to attack, but his attack is easily arrested and he is thrown away, getting knocked out for the rest of the battle.
Soma wakes up after the battle had been finalized, and decides to go to the place where Aquila Yuna find them. Upon arriving, he meets the murderer of his father, Hornet Sonia , accompanied by two Silver Saints , attacking Yuna. Soma is preparing to attack the Martian, but is prevented by Hound Miguel . The Soma Marciana not see as a threat and leaves.
Soma Yuna and try to convince the Silver Knights that are not traitors. Crow Johann , one of the Silver Saints, sees the determination in his eyes, and decides to fight with the Bronze Saints, believing that his words are true, will able to beat him. After the arrival of Kouga, the three manage to win the Silver Knight and flee the other.
Wind Ruins

Edit
After returning from Kouga, they come to ruin, where Soma is charged with protecting Aria outside. Wolf Haruto appears and informs them that a Silver Knight powerful guard this ruin, then decide to go for help. They see Kouga fighting Musca Fly . At first glance, Soma believes Kouga will be defeated, but Kouga can raise your Cosmo and defeat the Silver Saint. With Musca Fly eventually defeated, Yuna and Aria manage to destroy the core of Ruin.
The Cloth repairer and the legendary ore
Edit
Pegasus Kōga,Lionet Sōma and Aquila Yuna arrive to a desert area, in which they meet a young girl from the people of Jamir, called Raki, who at first attacks them. After realizing they are Saints, by tradition connected to the people of Jamir, Raki takes them through a shortcut to avoid the desert areas, only to be greeted by the challenge of Cerberus Dore, who seeks to capture Aria. Managing to defeat Dorie after a difficult battle, the Bronze Saints resume their journey, bidding farewell to their young benefactor, who later is joined by her mentor, Appendix Kiki, the former apprentice of the legendary Aries Mu, now a young man, who realizes the Bronze Saints are the new embodiment of hope in this era.
Fire Ruins

Edit
Souma scolds them for not being able to walk just a bit further and eventually they reach the end of the road, a view overlooking his hometown.
Souma, with Kouga passed out in the room from eating too much, goes to visit his father's grave, remembering Sonia and letting his anger boil until Kouga surprises him, and they talk about Souma's father and how beloved he was to the town.
Souma recalls his father showing him the town the cliff overlooks and telling him that this is where his strength comes from, reiterating the "strength to protect" aspect of being a Saint once more. Having gotten that off his chest, the two head back and Yuna seems to understand why Souma is taken care of so well in the town at last. The four reach the Fire , which sit on top of a volcano , and Souma feels Sonia's aura emanating from the entrance. He dons his Cloth and chases after her, not caring about the fires blazing along the mountain, as that is his element. Kouga, Yuna, and Aria have to find a different path, so it will take them a bit to catch up. Souma tears into thecave dungeon and demands Sonia show herself.Kouga calls out to Souma to stop and remember what his father said about his strength coming from protecting others. Souna takes a moment, but regains control of himself. Sonia's plan is ruined, so she flees. Souma truly wishes to follow her still, but is convinced to stay and destroy the core.
After the battle against Sonia on Fire ruin, sum leaves the group and goes adrift, after several days of running he fully recovers and follows his conscience atraz Sonia, although not resists fatigue and falls desarcodado, then he is helped by a mysterious man.
On regaining consciousness discovers that this sum on the farm of a former Bronze Saintt of Athena, Jabu (Omega) . Jabu training Lionet Sōmain the use of his cosmos, and Soma dominates Lionet Bomber attack, with the help of Jabu (Omega) ,Soma focuses more on your goals and can remove some of the doubts that plagued his heart.
Invading the Enemy Camp
Edit
Soma joins the other bronze riders trying to rescue aria in the castle of Mars, there he defeats Scutum Enneade attack with one of his new blow after he confronts Sonia, a fight much harder than the one that occurred in Ruinas del Fuego , have evolved much sum demonstrates their hablidade fighting with his legs and his elusive speed, the result of training with Jabu was and still covers seo Lionet Bomber match the most powerful attack Sonia, the fight ended with Sonia empatad leaving the battlefield , however when leaving Sonia overthrew Clostone of Kazuma, after the battle Soma decided to meet again with the group Kouga.
Thunder Ruins

Edit
Knowing of Aria's whereabouts,Kouga's team set off to invade the final ruins, followed by Ophiuchus Shaina, who joins them. Kouga is filled even more with determination to save Aria.The group runs right through to the entrance of the Thunder Ruins, but several Silver Saint "minions" obstruct their charge, forcing Ryuuho and Haruto to stay back on one-on-one fights and Yuna and Souma to fight a stronger enemy while Kouga and Shaina take on the core themselves.
Souma to fight a stronger enemy while Kouga and Shaina take on the core themselves. The two confront Aria and Eden, and Shaina comments on how Aria glows with the same cosmos as Athena. Eden and Kouga immediate have words over who is doing Aria more harm before they come to blows. Shaina takes this opportunity to grab Aria and have her help her destroy the Thunder Ruins.
Aria and Shaina begin to destroy the core, but Eden arrives to ruin their plans, threatening to destroy them, and Shaina dons her Cloth, revealing she is now infected by Mars' curse. Aria musters up all her courage and finally tells Eden that she can't stand by while Mars destroys the world, and pleads with Eden to use his power to stop his father.Shaina uses this last opportunity to take care of the Thunder Core, and the sky parts above the Thunder Ruins, showing out other Saints having finished off their "minions". Eden grabs the Thunder Core and Sonia overlooking the situation, rushing to Eden's aid. Having had enough of each other, Kouga and Eden raise their cosmos to full power and attack, Aria running towards them to stop them, but, unexpectedly, the three energies combine into a wicked force, opening up a Dark void that swallows everyone but Shaina, who manages to escape. 
Darkness Ruins

Edit
Sonia and Souma getting sucked into the darkness .Mars sends her into the abyss of the darkness, but Souma grabs her hand, telling her not to fall for the illusion, as it just reflects what's in her heart Mars attacks the two of them, but Souma protects Sonia once again, and uses his "Lionet Burning Fire" to destroy the illusion. Freed from this illusion, the two are back in the room similar to the others in the.Eden is in a room or mirrors that reflect young Aria's appearance, who fills him full of guilt for ignoring her true needs to escape the castle where she was imprisoned. Aria is in a similar room where he own reflects mock her for allowing herself to leave and experience the outside world selfishly. Kouga is met by Athena's reflection, who reveal to hi mthat his true cosmos is that of darkness, not light, which frightens him.
Pegasus Kōga
, Lionet Soma,
Dragon Ryūhō
,
Aquila Yuna
and
Wolf Haruto
stand once more to aid Aria, who backs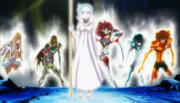 them in battle with her light this time, and while Mars is able to swat down most of them, Kouga breaks through, landing a hit on Mars. However, this embarrassment infuriates him, and he looks to find a source to blame, knowing Aria, whom he has raised from a child, has turned against him. He strikes her down, piercing her chest with his... red beam, stealing her new staff, and leaving as he makes the ruins crumble around the group. Eden and Sonia go with his, Eden calling out frantically to Aria as he is dragged along. The group surrounds Aria, and we have an emotional farewell.Aria ends up sending them away, everyone crying over her death, and she is left to die in the crumbling ruins.
Aries House

Edit
After briefly mourning the death of Aria,Soma and the other the Bronze Saints prepare to enter the Twelve Zodiac Temples. They are greeted by Aries Kiki, who explains the situation and how they are to proceed. Taking him for an enemy, Koga attacks Kiki, to what he responds by restoring the Pegasus Cloth and also revealing to them the crucial secret of the Seventh Sense.
Taurus House
Edit
Aquila Yuna ,Dragon Ryūhō,Lionet Sōma,and Wolf Haruto arrived at the Taurus Temple, Kouga stood back up and launched a Pegasus RyuSeiKen, surprising Harbinger for a moment. Aqulia Yuna and Lionet Sōma try to fight Harbinger together, but the Gold Saint evade and blocked all of their attacks with ease. Harbinger list all the bones he will be targeting in the Bronze Saints' body and proceeded to make true of his words, easily overpowering his opponents. When the Bronze Saints refused to let their broken bones stop them from fighting, Impressed with the Pegasus Saint's determination, Harbinger deemed the him as someone worthy of crushing. The two traded blows for a short while which culminated in an explosive clash between the Greatest Horn and the Pegasus RyuSeiKen. When the dust settled, Kouga realized at the other Bronze Saints had disappeared. He tells Kouga that the rewarded the other Bronze Saints for their bravery in the fight against him by sending them "flying" with the Greatest Horn
Leo House
Edit
Sōma with Haruto reach the fifth house, the Leo House , in which face Leo Mycenae at first the battle turns in favor of the four Mycenae easily defeat these but after having a little flashback of his past with Mars is at that moment that feels like the cosmos of Eden is no longer in doubt and the decision to oppose Mars is for this reason that Soma and Haruto leave .
Virgo House
Edit
Upon arriving at the next temple, Haruto and Souma are confronted by Virgo Fudo, a gold saint whose cosmos surpasses that of all the Gold Saints in the earlier temples. Yuna, Kouga, and Ryuhou join the battle in time to save their friends from a crushing defeat. But even the combined powers of the five Bronze Saints is no match for Fudo. When all hope seems lost, Eden arrive at the last minute and protects them from one of Fudo's techniques.
Road To Libra House
Edit
At the same time, the other Bronze Saints attempt to use the opening he gave them to go to the Libra Temple. Unfortunately, they are confronted by Tokisada, the new Aquarias Gold Saint and the man who killed Haruto's brother. His apparent ability to control time makes him a powerful adversary and Kouga is defeated with little effort.
Scorpio House
Edit
Souma and Sonia, who has been given the Scorpio Gold Cloth by Medea, engage in their long awaited final battle at the Scorpio Temple.
Pisces House
Edit
Soma and Companion finally arrive to the Temple of Pisces, guarded by the ruthless Pisces Amor. After separating Koga and Yuna from the others, Amor summons Mars' strongest warriors, the Four Heavenly Kings to fight the others.
Main Article: Lionet Cloth
Constellation

Edit
Main Arcticle: Leo Minor Constellation
Techniques

Edit
Flame Desperado: Attack clearly prepared with English words, translated as "Bandido of Flames". "Desperado" can be confused with "Desperate" in Spanish, and although the root word is the same, "Desperado" in English is used to refer to the outlaws of the Wild West. Soma charges his fist with his flame cosmo and hits the opponent with a devestating punch that scorches his adversary and sends them flying.
Lionet Burning Fire: Gathering a large amount of flames into his fist, Souma unleashes a steady stream of fire at his opponent from a distance. Souma developed this technique during the Saint Fight and debuted it during his match with Kouga.
Lionet Bomber: Souma covers his whole body with flames and then uses his shoulder to tackled his opponent with tremendous force. Aside from the head-on impact, the fire that surrounds Souma is able to pass onto the opponent and consume their body and injure them with severe burns . Originally a technique of the previous Lionet Saint, Ban, it was taught to Souma by the former Unicorn Saint, Jabu, after he found and saved the young Lionet Saint in the desert. Souma has commented that this is his strongest technique.
Predecessors and successors
Edit
Predecessors
Edit
Main Article: Lionet Ban
Successors
Edit
Main Article:
His name means ¨And I with Body Armor Body Of Leon would be."