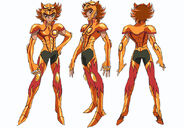 The cloth has a design similar to that of the cloths in omega protection, arms and shields forearms are separated by a "sphere" to the elbows, the same "earth" occurs in the knees apart thigh pads of the feet, in both protections appears similar to a "flame" design, the shoulder straps are attached semicircular chest completely, it presents a "semicircular" protection on the left side of the chest features a tiara design similar to feline face, has great protection in the part of the face but the back has no protection.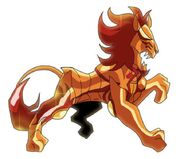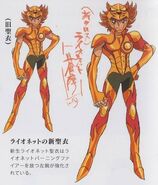 After the reconstruction of the cloth at the hands of Kiki , the cloth gets few details in the left arm and shoulder, both are unified by a "flame" and the wrist has a separation of arm and wrist rest of cloth is equal.
Ad blocker interference detected!
Wikia is a free-to-use site that makes money from advertising. We have a modified experience for viewers using ad blockers

Wikia is not accessible if you've made further modifications. Remove the custom ad blocker rule(s) and the page will load as expected.