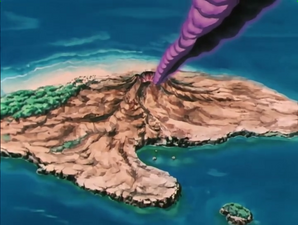 Kanon Island
(カノン島
-
kanon tō
) Is a small island located in the Mediterranean, composed of a bit of land and an active volcano at the center. The fumes of the volcano have healing properties and in the manga Hyoga advises Ikki to go there to heal his wounds. In the anime, it is not known how Ikki learns of his existence. According to Saint Seiya ~ The Lost Canvas, the island is not that far from Greece, such that the saint Aquarius was able to see it in the distance from the house of Aquarius.
In Saint Seiya Omega, after his fight against Holy Sword Aegaeon, Ikki went there to recover from this injuries.
Appearances
Edit
Ad blocker interference detected!
Wikia is a free-to-use site that makes money from advertising. We have a modified experience for viewers using ad blockers

Wikia is not accessible if you've made further modifications. Remove the custom ad blocker rule(s) and the page will load as expected.