Kagebōshi

Naming
Japanese
影法師
Romanization
Kagebōshi
Greek
Alias(es)
General Information
Classification
Terrestrial Specter of Hades
Deity
Hades
Cloth
Memorial
Black Cloth
God Cloth
Glory
Surplice
Scale
Kamui
God Robe
Galaxy
Soma
Ars Magna
Chronotector
Sacred Sword
Tattoo
Orb
Leaf
Nahual
Constellation
Evil Star
Terrestrial Suppression Star[1]
Star
Cosmoenergy
Realm
Abilities shown
Named techniques
Kage Gōpuku
Items used
Biographical Information
Age
Race
Human
Gender
Male
Place of birth
Place of training
Place of death
Sixth Prison, Underworld
Unknown (final)
Blood type
B
Zodiac sign
Birthday
September 22
Height
178 cm
Weight
76 kg
Master
Apprentice
Family
Media
Debut
TLC: Chapter 11
Appearances
The Lost Canvas: Manga
The Lost Canvas Gaiden
Japanese voice
English voice
[Template Source]
Kagebōshi (地鎮星の影法師, Chichin-sei no Kage Hōshi) is one of the specters in the army of Hades who appeared in The Lost Canvas manga. His formal introduction was in The Lost Canvas Gaiden (chapter 54, in Gaiden 8).
Kagebōshi roams the underworld in search of souls who somehow managed to maintain consciousness after death, and recruit them to the Underworld army serving Hades .
The Lost Canvas Gaiden 8: Virgo Asmita
Edit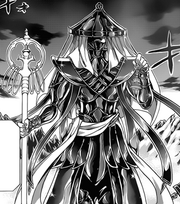 Kagebōshi has a brief confrontation with Asmita when the latter saves a close friend while he was being tortured by Skeletons. After defeating them Kagebōshi attacks Asmita but unable to defeat the Saint, he ends up running the same fate as his subordinates.
The Lost Canvas
Edit
Kagebōshi is one of the specters among the "collection" called by Hades.
Techniques
Edit
Kage Goupuku (影降伏, Kage Gōpuku)
References
Edit
↑ 地魁星 Chichinsei. 魁 is Han for "town", "market place" and, in context, "suppression". It does not directly translate to "oppression", despite being commonly considered as such.
External
Edit
Ad blocker interference detected!
Wikia is a free-to-use site that makes money from advertising. We have a modified experience for viewers using ad blockers

Wikia is not accessible if you've made further modifications. Remove the custom ad blocker rule(s) and the page will load as expected.