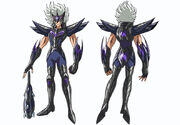 Chronotector dressed by Eden , changing only the central design of a "diamond " by a "cross " on the chest neck protector resembles unifies , which has in its center a number " 3 " below the same protection that protects the pit of my stomach stretches and allows the binding of chest waist in the middle of it carries a "x " that subdivides the protection of the mouth protection of stomach thighs, arms protection extends from elbow to knuckles on spending , arm protectors out on two species of numbers "3" located at the beginning of each protectors knees " bind " a thigh pads and are the protectors of the feet, protecting the back of the pallasite , is a similar detail a number " 3" as in the knee , has four pads which are attached to the breast shield , and divided into two pairs , each one located above the other .
Ad blocker interference detected!
Wikia is a free-to-use site that makes money from advertising. We have a modified experience for viewers using ad blockers

Wikia is not accessible if you've made further modifications. Remove the custom ad blocker rule(s) and the page will load as expected.