Hammer Thebe (ハンマーのテーベ, Hanmā no Tēbe) is one of Pallasites Third Class.
Chronology
Edit
Challenging the Spy
Edit
Thebe is chasing Scutum Ennead who overcomes his technique "Demon's Hammer". However, he realizes that he could beat the silver saint just because he wanted to protect a little girl. Reappears later interrupting the battle between Koga and Eden. The pallacite manifests  thinking at the attitude of Eden and asked to kneel before him. When Thebe  believed it would accede to the humiliation, Club "Impulse Mace" Eden hits him hard. Tebe just confused by the reason that if Eden  wanted Aria to revive this had to obey, Eden replied that someone no longer bound to the past alive. That's when Eden wakes Tebe looks like his new armor and ends up being completely defeated by the saint of Orion. Finally able to be saved by Chakram Europe, who carries it.
Attack Palestra
Edit
Thebe is se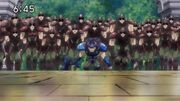 nt to the mission of destroying Palestra , under the command of Aegir , directing the battlefield the Pallasites soldiers , but they are defeated by  Libra Genbu , Tebe decides to attack Libra Genbu with his technique, Hammer Demon whose power is praised by Genbu , however Genbu stops the attack with one hand to later attack Thebe who is defeated by its own technique, however Aegir involved in the fight to combat Genbu , the place of the now defeated Thebe.
When the Saints - who invaded Pallas Belda - approaching the castle Pallas, Thebe argues with Daggers Hati of the privilege to get rid of their enemies. As a result, Titan asks them to take care of all.
Hammer "Demon Impact" Thebe directs the company responsible for the refuge of the Saints attack from outside. In doing so, he confronts again in Eden, that gets rid of it pretty quickly: the Pallasite a beautiful Asteroid Gigantic invoke Orion Eden  manages to send him with his Orion's Extermination, putting a definitive end to its actions.
Manga (Omega)
Edit
Hammer "Demon Impact" Thebe appears in a passage inspired by episode 60. He reprized the role dedicated to its peer Daggers Hati in the original bracket facing Pegasus Kōga  and Steel Saints and killing Erna that protected Subaru. In the process, he is defeated by it.
Ad blocker interference detected!
Wikia is a free-to-use site that makes money from advertising. We have a modified experience for viewers using ad blockers

Wikia is not accessible if you've made further modifications. Remove the custom ad blocker rule(s) and the page will load as expected.