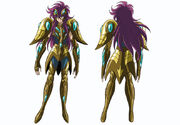 The Chronotector is divide each part of it is on the left and right respectively, at the top of each part of town are some gems that seem to represent eyes, chest is attached to the waist dare a protection extending to unite both protection and at its center is a gem, arms and forearms are similar to those used in other Chronotector Second Class protection, thigh pads are similar to those of the design Chronotector Mystic stone legs have a basic design except that in the knee have a "2" in each of them while foot gem in each thereof, the pads are of a semicircular design is presented that oppose greater protection to the forearms.
Ad blocker interference detected!
Wikia is a free-to-use site that makes money from advertising. We have a modified experience for viewers using ad blockers

Wikia is not accessible if you've made further modifications. Remove the custom ad blocker rule(s) and the page will load as expected.