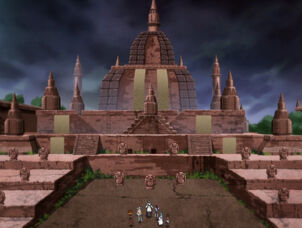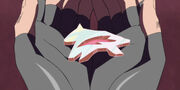 Earth Ruins (
土の遺跡
-
tsuchi no iseki)
somewhere in a region like Cambodia.Earth Ruins protected by
Caelum Michelangelo
,
Hydrus Ichi
and Golem . The Core of the Earth Ruins dries out and kills crops. It also provides Michelangelo energy allowing him to create a large number of Golems to protect the ruins.
Ichi betrays first group Kōga into believing that the core is in the temple, and then fight together golems. In fact, the core was hidden in the basement of the temple. Haruto finally locates the core and enters with Aria, causing leakage of Michelangelo.The Core Of Earth Ruins is destroyed by Cosmos Aria and Haruto, who thus recovered a Cosmo Crystal wolf form.
Guardians
Edit
Appearances
Edit
Ad blocker interference detected!
Wikia is a free-to-use site that makes money from advertising. We have a modified experience for viewers using ad blockers

Wikia is not accessible if you've made further modifications. Remove the custom ad blocker rule(s) and the page will load as expected.