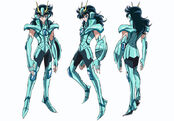 In this version the Frame has several changes in the way of protection and color, because that's a new material that they are made of Cloth makes them more resistant. Version 1 has a a simpler design than before, now has a headband that stand dragon head that also covers the cheeks and ears, the pads are attached to the neck that has the style of a shirt, the protector of arms is simpler and closer to the body by binding with the only adornment a rectangular gems on the elbows, the shield has a simpler design (up to version 2), the central block is attached to the skirt and has a rectangular jewel equal to having shoulder.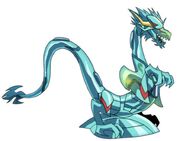 The Cloth remains the same as version 1, the only change is made in the cloth is the Dragon Shield who changes shape to a similar version of the classic series structure.
Ad blocker interference detected!
Wikia is a free-to-use site that makes money from advertising. We have a modified experience for viewers using ad blockers

Wikia is not accessible if you've made further modifications. Remove the custom ad blocker rule(s) and the page will load as expected.