Deadly Beetle Stand
Talk

0
930pages on
this wiki
Deadly Beetle Stand
(天醜星デッドリービートルのスタンド,
Tenshūsei Deddorī Bītoru no Sutando
?
) is one of
Hades
' 108 Spectres. Stand's power lies in the
Divine Ugliness Star
(天醜星)
Deadly Beetle Stand
Age
22
Gender
Male
Date of birth
April 18
Nationality
Australian
Class
Specter
Loyalty
Hades
Surplice
Deadly Beetle
Star
Divine Ugliness Star
Height
258 cm
Weight
240 kg
Blood type
B
Secret moves
Big Wall

Stand by me

First appearance
manga: chapter 89, vol.24

Anime: ep.133

Voiced by
Tomoyuki Shimura (The Lost Canvas)
Guardian of the Fifth Prison of the Underworld
Edit
A giant and the tallest of Hades' Specters (or possibly the second tallest counting Genbu Gregor), Deadly Beetle Stand appears in the last parts of the Hades arc, in the manga. Gemini Gold Saint Kanon was fighting his way to find Athena and eventually came face to face with Stand.
Shiryuu and Hyouga arrive at the moment Kanon and Stand were engaged in battle, and tried to warn him of the danger the Specter posed, many were afraid of Deadly Beetle Stand because of his power, size and mass, even Specters. Such warning wasn't necessary for Kanon had already defeated Stand, and after a few seconds, he collapsed, allowing the Saints to freely tresspass the 5th. Prison of the Underworld.
In the anime adaptation, Stand's intervention is exactly identical to the events in the manga.
Surplice, Name and Star
Edit
The Deadly Beetle Surplice represents a giant beetle. Stand's Star is TenShuuSei (天醜星), the Divine Ugliness Star.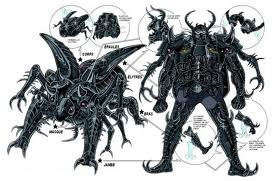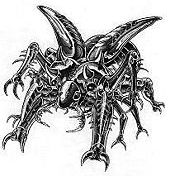 Though Masami Kurumada gave him some techniques; Big Wall and Stand By Me, he didn't draw Stand performing them in the manga (but he performs Stand By Me in The Lost Canvas). In fact, Stand only appears to block Kanon's way, and is easily defeated by him.
Stand is the tallest and bulkiest of Hades' Specters (but it can be argued if Genbu Gregor might be even bigger).
His attack, Stand By Me, is a reference to the Beatles' cover of the song of the same name. Naturally, it being a Beatles ('beetles') song makes it a double reference.
The second Kanji in his star (醜) means ugly.
References
Edit
Saint Seiya Vol. 24, by Masami Kurumada.