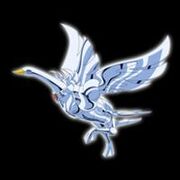 Cygnus New Cloth is Hyoga Second Cloth
Discription
Edit
Cygnus New Cloth is resurrected by the blood of the Gold Saint,Scorpio Milo, before the battle against Poseidon (in the anime, before the battle Argard, apparently maintaining the same strength he possessed in the Battle of the Twelve Houses). Changed little. Due to having been restored using the blood of the Gold Saints, the second version of armor, can suddenly become golden (and in the manga, this happens every time Hyoga reach the 7th sense).
Hades Ova
Edit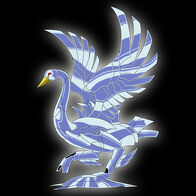 The damaged equipment before it becomes quite different after instantly evolved thanks to the blood of Athena. It is believed that the wings arise when it is necessary to cross dimensional spaces. And this is what happens at the exact moment that Hyoga crossed the hyper dimension.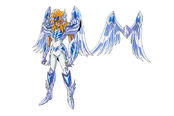 After the defeat Absu, Hyoga recovers and soon joins the battle against the new enemy, Pallas. When Hyoga is finally seen in action in the main plot, his armor had already undergone further evolution, similar to that by which other bronze armor, cloth shape stone, Hyoga had obtained the seventh sense, passed after the defeat of Absu.
The new armor have the ability to evolve and regeneration according to the explosion of the cosmos of their own riders. The cloth is destroyed with the birth stone of this version of the armor, which is again stored in a Pandora's Box. Other armor that underwent identical processing were described as having a much higher resistance to clothstone version, and giving its user a larger than normal power.
Ad blocker interference detected!
Wikia is a free-to-use site that makes money from advertising. We have a modified experience for viewers using ad blockers

Wikia is not accessible if you've made further modifications. Remove the custom ad blocker rule(s) and the page will load as expected.