Carina Atlas
Talk

0
1,300pages on
this wiki
Carina Atlas
Age

22

Gender

Male

Affiliation

Abel

Class

Saint

Rank

Corona

Cloth

Carina

Attacks

Crown Fire

Height

1.86 m

Weight

83 Kg

Voiced by

Akira Kamiya
Carina Atlas
is Character From Movie
Legend of Crimson Youth By Masami Kurada
is the most powerful of the Corona Saints. Easily defeated Seiya and Ikki in his early fights. He fought five bronze saints, when they arrived at the Corona Temple and defeat almost completely. However, the "cosmo" encouraged Seiya Hyoga and Shiryu, who in a combined attack could finally end this saint, when using the three Sagittarius , Aquarius , and Libra Gold Cloth , respectively. Undoubtedly, it was one of the most powerful adversaries who confronted the Saints of Athena.
Peculiarities of Armor
Edit
Armor Carina Carina the keel means (basic structural part of a ship) of the mythological ship Argo. It was part of the mythological figure of the ship, which represents the ship of the Argonauts, and was divided into three parts in the eighteenth century: Carina, Vela and Popa.
Fighting Skills
Edit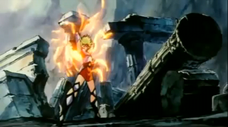 Crown of Fire
(
Bāningu Korona,
the English
"Burying Corona"
"Burning Corona"): Atlas raises his and arms concentrates his cosmos in his fists, creating powerful flames in the shape of a sun, and then fires a gigantic cloud on fire like the Carina Nebula. While Atlas focuses energy, an aura is created in the form of flaming barrier to prevent the enemy to stop the attack. The nebula collides with the opponent in a devastating form, not only causing serious burns, but also exploding inside him and shattering the enemy's armor.