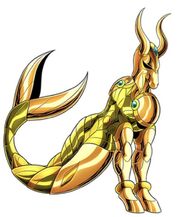 The Capricorn cloth stone has a quite different from the manga and anime classic design, the shoulder straps are attached to the hemispheres chest and neck protector, chest has an extensive and complete protection past the pelvis, on the sides of the waist to the continued protection exceed the knee, foot and thigh pads are design "always", retains the feet similar to the above design version, the above arms and arms are unified in a single protection to reach the wrist has similar to a bracelet in the back of the waist is smaller protection than those found on the sides but larger than the one located in the center of the waist, the helmet is the protection that most resembles to classical, with some small difference as the green gem located in the center of the top of the helmet.
Ad blocker interference detected!
Wikia is a free-to-use site that makes money from advertising. We have a modified experience for viewers using ad blockers

Wikia is not accessible if you've made further modifications. Remove the custom ad blocker rule(s) and the page will load as expected.