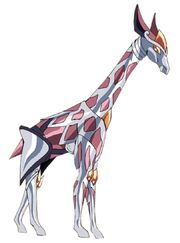 Camelopardalis Cloth Stone is carried by a woman be to highlight that design change is now a ClothStone, this armor is very simple Grey, pink, dark blue and orange hues, the design of this cloth is, the pads are simple like the headband and it should be noted that in this cloth contains a part that looks like a skirt.
Ad blocker interference detected!
Wikia is a free-to-use site that makes money from advertising. We have a modified experience for viewers using ad blockers

Wikia is not accessible if you've made further modifications. Remove the custom ad blocker rule(s) and the page will load as expected.