Black Terror Felser

Naming
Japanese
黒き戦慄のフェルサー
Romanization
Kuroki Senritsu no Ferusā
Greek
Alias(es)
Champion of Catalania
General Information
Classification
Gladiator
Former Saint Apprentice
Deity
Phobetor
Cloth
Memorial
Black Cloth
God Cloth
Glory
Surplice
Scale
Kamui
God Robe
Galaxy
Soma
Ars Magna
Chronotector
Sacred Sword
Tattoo
Orb
Leaf
Nahual
Constellation
Evil Star
Star
Cosmoenergy
Realm
Catalania, Spain
Abilities shown
Named techniques
Items used
Mystic Sword Zanōki
Biographical Information
Age
Race
Human
Gender
Male
Place of birth
Place of training
 ??? (same as El Cid)
Place of death
Blood type
O
Zodiac sign
Birthday
August 14
Height
191 cm
Weight
102 kg
Master
Apprentice
Family
Media
Debut
TLC Gaiden 5: Chapter 40
Appearances
The Lost Canvas Gaiden
Japanese voice
English voice
[Template Source]
Black Terror Felser (黒き戦慄のフェルサー, Kuroki Senritsu no Ferusā), once the supreme ruler of Catalania, prepares to engage Capricorn El Cid in battle, who is surprised to meet him again. In the past, friend and training partner to El Cid and Mine and a kind-hearted young man.
He was formerly the training partner of El Cid, the latter and were trapped in a mine fire forest Felser pounces on them to protect them but the flames thanks to the sharp impact of the labor Ferser that according to the cid was like a sword going through all the arbolen in flames and eventually were killed in a single forest grass stay Felser but the arm was burned, but his arm were no longer to be a saint, but Felser was happy to know that their colleagues were safe. But long after the fire disappeared Felser
El Cid Gaiden
Edit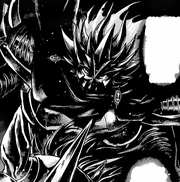 Appears in Gladiators Tournament Finals, when the Cid realizes power Felser fight was like a sword when the latter says he has spent time the Cid. Felser said he has been five years of the Cid surprised and said that if Felser and the latter said to be the real champion Catalania. El Cid and Felser appear are old acquaintances, as he says he hated fighting, Felser says that has changed, because now is the supreme warrior Catalania and knows that the reason why the Cid was sent to the site was for him. Ferser cosmos increases by absorbing blood lust and passion of the people of the sand. Leaving behind his old acquaintance. Back in the tournament a young participant is defeated and brutally killed by Felser.
Ad blocker interference detected!
Wikia is a free-to-use site that makes money from advertising. We have a modified experience for viewers using ad blockers

Wikia is not accessible if you've made further modifications. Remove the custom ad blocker rule(s) and the page will load as expected.