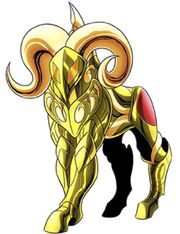 The Aries Cloth Stone retains the basic features of the classic series , but in a slightly more exaggerated than that designed by Kurumada . It is a cloth that seems to have good level of protection , being very thin in the middle, with two pieces of reddish color on the sides of the hip, but widens at the shoulders and legs getting to have some pretty sturdy feet.
The helmet may never see in this version , so do not know if it retains the same shape as the original. Horns are one detail that defines the cloth of Aries and give it its own identity , Omega not only preserved but makes a little "stronger " seeming to have more grip and are in a more challenging position. On the other hand shoulder pads expand compared to classical animation, even match Kurumada 's manga , but this time are quite soft on the overall design. Dickey could say it is identical to a set of serious simplistic design . The curved arms ceased to be losing any identity that unlike any other cloth . The tapered shape of the original belt several plates to be lost only three points and red ornaments . The plates of the legs have exactly the same position, but noticeably larger , even going to seem like the character armor that will remain great in that body part .
Ad blocker interference detected!
Wikia is a free-to-use site that makes money from advertising. We have a modified experience for viewers using ad blockers

Wikia is not accessible if you've made further modifications. Remove the custom ad blocker rule(s) and the page will load as expected.