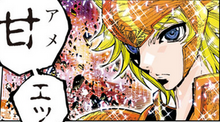 Aquarius Hyoga is is a character from Next Dimension and Saint Seiya: Episode G - Assassin. He is one of 88 Knights of Athena. Hyoga is also one of the 12 Gold Saints and is protected by the constellation Aquarius and thus carries this Armor.
Chronology(Next Dimension)
Edit
During his journey through time in the 18th century, Hyoga will collide with its predecessor of his master Camus, ie Aquarius Mystoria, which eventually will proclaim Hyoga as future Gold Saint of Aquarius.
History: G - Assassin
Edit
Hyoga who became a bartender will view Shun company who drank a glass of scotch in order to get used to the alcohol in order to have a drink with his brother. The two friends discussed the Shinjuku events after the explanation of Shun, Hyoga decided to investigate in its own way
Gram vs Excalibur
Edit
During the Battle of Libra Shiryu who opposes Sigurd, Hyoga encouraged which allowed the Knight of Libra to beat the Gladiator. Later, Hyoga gave visit Takamichi a former policeman who now works for the Knight and that serves as an informant. Hyoga asked for information on the Faceless. After he received the little Takamichi information, Hyoga decided to chase his enemies in his way
Ice, snow, water and fire
Edit
One night Hyôga met Shura and went to eat a "perfect constellation". The bartender took a "constellation Aquarius" and Capricorn Knight took a "constellation Capricorn."
Later, the two Knights became attacked by Wadatsumi, quickly Hyôga froze the hand of the girl. During his fight against the No-Face, Knight froze a tornado created by his opponent by creating a wall of ice that was destroyed by Lancelot had just happened. Hyôga rebuked Wadatsumi who was upset by the intervention Gladiator but this reprimand even more annoyed the girl. Later, Knight put out fires caused by fighting which earned him the ridicule of No-Face who attacked with several techniques. To protect Hyôga technical equipped himself Armour of Aquarius which allowed him to save the rest of the victims. The Knight of Aquarius tried to dissuade Wadatsumi injury to civilians but this does not obey and attacked with his Fire Storm and went on with another technique. Having survived the attack of No-Face, with Kolstø Hyôga immobilized and killed with Diamond Dust in the freezing. After killing, the Knight of Aquarius Freezing Coffin used his body to enclose the granddaughter in an ice coffin.
Ad blocker interference detected!
Wikia is a free-to-use site that makes money from advertising. We have a modified experience for viewers using ad blockers

Wikia is not accessible if you've made further modifications. Remove the custom ad blocker rule(s) and the page will load as expected.